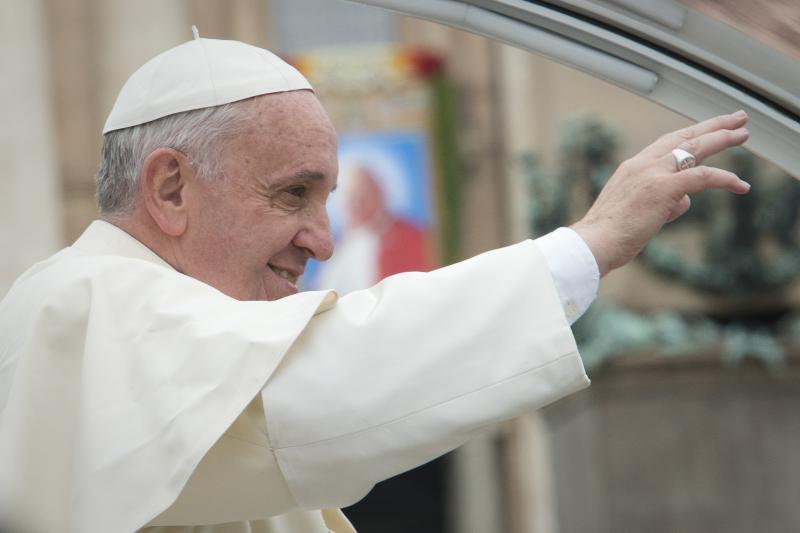 On Thursday, June 18, 2015, Pope Francis issued a new papal encyclical, a much-anticipated pastoral statement on the environment. The statement, known as a "papal encyclical" is entitled Laudato Si' (Praised Be)—a quotation from St. Francis's prayer praising God for creation.
What is an encyclical?
Encyclicals are formal letters issued by a pope to the universal Catholic Church concerning moral, doctrinal, and disciplinary matters. It is a teaching document for bishops and Catholics everywhere.
What does this encyclical say?
In "Praised Be," Pope Francis teaches that the Catholic voice on climate change is clear and distinct and stands in protection of Creation and all of God's children.
Calling climate " a common good, belonging to all and meant for all," (Laudato Si' 23) Pope Francis calls for a "new and universal solidarity" (LS 14) in defense of Creation.
The encyclical calls for a broader recognition of "both the cry of the earth and the cry of the poor," (LS 49) pointing out that the poor suffer the most from consequences of improper care of the environment, even though they have contributed the least to climate change (LS 51).
Pope Francis argues that the climate challenges we face require an intergenerational effort and a reimagining of local, national and international responses. He writes, "Put simply, it is a matter of redefining our notion of progress. A technological and economic development which does not leave in its wake a better world and an integrally higher quality of life cannot be considered progress." (LS 194)
The encyclical concludes with calls for a renewed notion of the common good, grounded in the obligation we have to future generations to address climate change, and insistence that we must all act to care for Creation.
"Many things have to change course, but it is we human beings above all who need to change. We lack an awareness of our common origin, of our mutual belonging, and of a future to be shared with everyone. This basic awareness would enable the development of new convictions, attitudes and forms of life. A great cultural, spiritual and educational challenge stands before us, and it will demand that we set out on the long path of renewal." (LS 202)
Why is this encyclical important?
The Pope is one of the most popular public figures in the world, both inside and outside of the Church. The release of "Praised Be" offers inspiration to faith leaders and organizations across the globe to come together to amplify a common message of caring for our shared home.
The timing of the Encyclical's release is especially important in light of the global climate talks that will take place in Paris at the end of this year. Now is the time for all people, everywhere, to raise a common call for world leaders to take meaningful action on climate change at the UN climate negotiations in December.
People of Faith Taking Action
Here are some ways that people of all religious traditions are heeding the Pope's moral call to action—and some ways you and your congregation can be involved.
Take the Paris Pledge
In December, leaders from across the world will meet in Paris to negotiate an agreement on how the global community can take action on climate at the governmental level.
The Paris Pledge is a bold two-step commitment that individuals and congregations can make today to take action on climate. When you sign the Paris Pledge, you commit to cutting your carbon pollution in half by the year 2030, and to becoming carbon neutral by 2050.
Learn more and take the Pledge here.
One Earth, One Human Family: Interfaith March into St. Peter's Square
On Sunday, June 28, Catholics, people of diverse faiths, and others will take part in a march from Piazza Farnese in Rome to St. Peter's Square in Vatican City. The march will be called One Earth, One Human Family.
That same day, faith communities around the world are invited to join a Global Climate Chorus—to ring their bells, sound their gongs or chimes, sound their shofars, or offers prayers outdoors in solidarity.
A Rabbinic Letter on the Climate Crisis
Hundreds of rabbis have signed a Rabbinic Letter on the Climate Crisis, calling for vigorous action to prevent worsening climate disruption and to seek eco-social justice. A brief excerpt: "We believe that there is both danger and hope in American society today, a danger and a hope that the American Jewish community, in concert with our sisters and brothers in other communities of Spirit, must address. The danger is that America is the largest contributor to the scorching of our planet.  The hope is that over and over in our history, when our country faced the need for profound change, it has been our communities of moral commitment, religious covenant, and spiritual search that have arisen to meet the need. So it was fifty years ago during the Civil Rights movement, and so it must be today."
Read the full text of the letter and, if you are a rabbi, sign onto the letter here.
World leaders need to see massive support for climate action from diverse faith communities.
Please stay tuned for more updates and ways to take action!
---
Additional Resources
---
Photo "Canonization 2014-The Canonization of Saint John XXIII and Saint John Paul II" by Flickr User Aleteia Image Department licensed under a Creative Commons Attribution-ShareAlike license.
Photo "Pope Francecso I" by Flickr User Jeffrey Bruno licensed under a Creative Commons Attribution-NonCommercial-NoDerivs license.
Photo "Vatican Easter Mass 73" by Flickr User Karl Villanueva licensed under a Creative Commons Attribution-NonCommercial license.