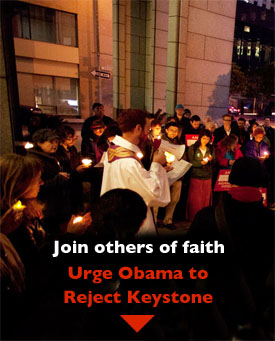 Last year, thanks to pressure from people of faith all across the U.S., President Obama refused to issue a permit for the Keystone XL and directed the State Department to conduct a thorough study on its environmental impacts, including climate change.
Now the Supplemental Environmental Impact Statement (SEIS) is out, but it only seriously investigated the regional climate change impacts of the pipeline itself and not how the increased use of carbon-intensive oil would impact global climate change.
An assessment that ignores or brushes aside the impact of tar sands development on global climate change is woefully inadequate. We need your help.
Click here to send your comment to President Obama and Secretary of State John Kerry.
For background on the issue, explore the links below:
Statements by faith and science leaders on the Keystone XL
Send your comments by April 22nd (Earth Day!) here: http://bit.ly/Yc8p5T
If you have questions or would like more information, please e-mail Yaira.