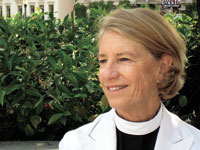 We are thrilled to announce that the Reverend Canon Sally Bingham, President and Founder of the national Interfaith Power and Light, will be in Austin for a series of events, October 21-23, 2011. Rev. Bingham's visit presents the Central Texas community with a unique opportunity to connect around issues of environmental stewardship and explore religious responses to global warming. Below is a basic outline for the weekend; we invite you to participate, and invite your friends!
On Friday evening, October 21st, at All Saints Episcopal Church, 6:30 p.m. All are welcome to join in a celebration of life and the planet that we share, "Arts and the Environment: Under the Same Sky," a family event complete with art, music and activities. This event will be open to the community. Local artists and musicians, including the Drumsistas, will participate.
On Saturday morning, at All Saints Episcopal Church, from 9:00 a.m.-2:00 p.m., a workshop focusing on global warming with Rev. Bingham as the keynote speaker. The event will feature a morning panel presentation and conversation--including Rev. Sally Bingham, founder of Interfaith Power & Light; Dr. Camille Parmesan, Associate Professor of Integrative Biology at the University of Texas at Austin; Amanda Robinson, Coordinator of Texas Interfaith Power & Light; and Ilan Levin, Associate Director of the Environmental Integrity Project--followed by a light lunch and an early afternoon session of small group discussions. Click here to register for this event.