TXIPL Staff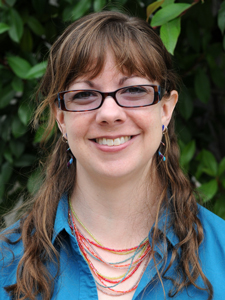 Yaira A. Robinson, Associate Director, Texas Interfaith Center for Public Policy
Yaira A. Robinson joined the staff in May 2008. Texas Interfaith Power and Light (TXIPL) is the environmental program of the Texas Interfaith Center for Public Policy (TICPP), and is one of 40 state Interfaith Power and Light programs.
Yaira is a rabbinical student in the ALEPH Rabbinic Ordination program and holds a Master's in Theological Studies from Austin Presbyterian Theological Seminary. She has studied religiously-based environmental and food justice with Creation Justice Ministries, Hazon, GreenFaith, and the Siach network.
She has earned multiple DeRose-Hinkhouse awards from the Religion Communicators Council for materials she's written for the Interfaith Center, and is a Contributing Scholar for State of Formation, an online forum for emerging religious and ethical leaders. In that space, she writes about both her work and her religious journey.
Yaira graduated summa cum laude from the University of Texas at Arlington with a Bachelor of Arts degree in English. She worked some in the textbook publishing industry and some as a stay-at-home-mom before serving two Unitarian Universalist churches as Director of Religious Education from 2004-2009.
Yaira is joyfully Jewish, and an active member of Congregation Agudas Achim in Austin. She has two boys, Ezekiel and Elijah, and the three of them share their home with a one-eyed pug dog.
Follow Yaira's blog here.
Honest interfaith engagement and justice work are important parts of the connective, healing work so needed in the world right now, and any step taken in love—no matter how small—matters.