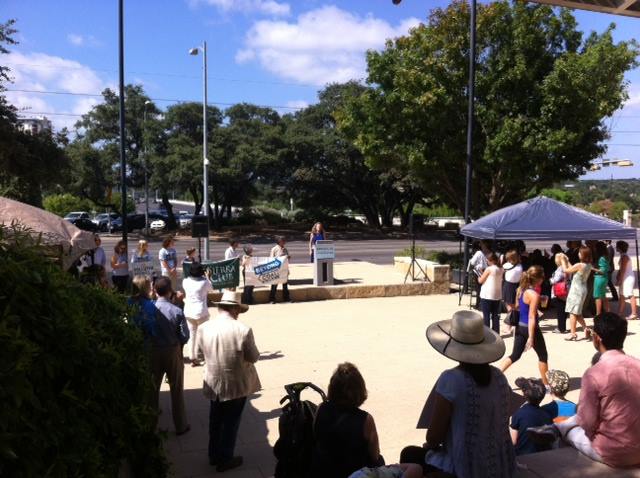 On Wednesday, August 5, Austin's Mayor Steve Adler, Representative Donna Howard, many City Council members, and a host of Austinites joined together at Austin City Hall for a press conference in support of President Obama's recently announced Clean Power Plan, which places limits on carbon pollution from power plants across the nation.
Mayor Steve Adler opened the event by pointing to the floods, drought, and wildfires that have affected Austin and the surrounding areas in recent years as symptoms of climate change. "While the time for action on climate and carbon pollution was long ago, I applaud President Obama and the EPA for making history by bringing forward the Clean Power Plan to put common sense limits on carbon pollution from power plants," Mayor Adler said.
The Clean Power Plan set forth by President Obama and the EPA requires a 32 percent reduction in carbon pollution from the power sector's 2005 levels by 2030 and encourages more use of renewable energy resources such as solar and wind.
Multiple City Council members spoke in favor of the new plan and its goals of mitigating climate change. Delia Garza of District 2 recounted stories of her constituents who experienced firsthand the Onion Creek flooding that devastated parts of Southeast Austin in the fall of 2013, and said that decreasing carbon pollution can save future communities from similar destruction. Greg Casar of District 4 said that attacks on the Clean Power Plan are short-sighted and that, rather than detrimentally affecting working class Texans, a move to renewable energy has the potential to provide new jobs for employees who may lose power plant jobs. "I, along with my colleagues, am up to the challenge of bridging the political divide and making sure we protect our environment," Casar said.
A nurse with the Texas Physicians for Social Responsibility spoke about the health impacts brought on by climate change. She focused on asthma, which affects nearly 1 in 4 children in Texas and is caused by particulate matter in the air—these particulates are greatly increased by pollutants from coal-fired plants. By cleaning up our air, she said, we can create healthier lives for children, the elderly, and everyone in between.
Reverend Amelia Fulbright spoke on behalf of Texas Impact and many Texans of faith. She emphasized just how inseparable the bond is between concern for nature, justice for the poor, and commitment to society. Here's what she said:
"In the book of Genesis, we are entrusted with the stewardship of creation -- called to be caretakers, not destroyers. We have a moral and spiritual obligation to protect the environment, both for ourselves and for future generations. And when I think about future generations, it is not an abstract concept to me. I think very concretely about my daughter and her potential children. And I think about the very real inevitably that if you and I and the state of Texas don't make serious changes now, my daughter will not know the joy of living, working, and playing in a safe, clean, hospitable world.  

The great 13th c. Catholic Saint Francis of Assisi, known for his attention to the natural world, said:"Remember that when you leave this earth you can take nothing of what you have received, but only what you have a given: a full heart, enriched by honest service, love, sacrifice, and courage."

Today, all across the world, people of faith are responding to the crisis of climate change. Pope Francis, who chose to be named after Saint Francis, draws clear connections between our treatment of the earth and the suffering of the poor. In his recent encyclical on ecology, he writes: "...Everything is interconnected, and...genuine care for our own lives and our relationships with nature is inseparable from fraternity, justice, and faithfulness to others."

Scripture tells us that the sins of the fathers will be visited upon their children, up to the third and fourth generations. I believe this to be true in the sense that if climate change continues undeterred on its current trajectory, you and I will be to blame. The Clean Power Plan is a crucial first step in combating climate change by allowing Texas to create a plan of its own to reduce carbon pollution. The choice is not between caring for the environment OR creating jobs. The choice is between thinking only of ourselves OR thinking about the legacy we will leave to our children and grandchildren.  

Until now, there have been no limits to the amount of carbon pollution that power plants could dump into our air, wreaking havoc on our health and our climate.  May we have the moral courage to act now for a better tomorrow, for the sake of all the world's children."
For more information about the Clean Power Plan and how you can support climate action, visit the Texas Interfaith Center.