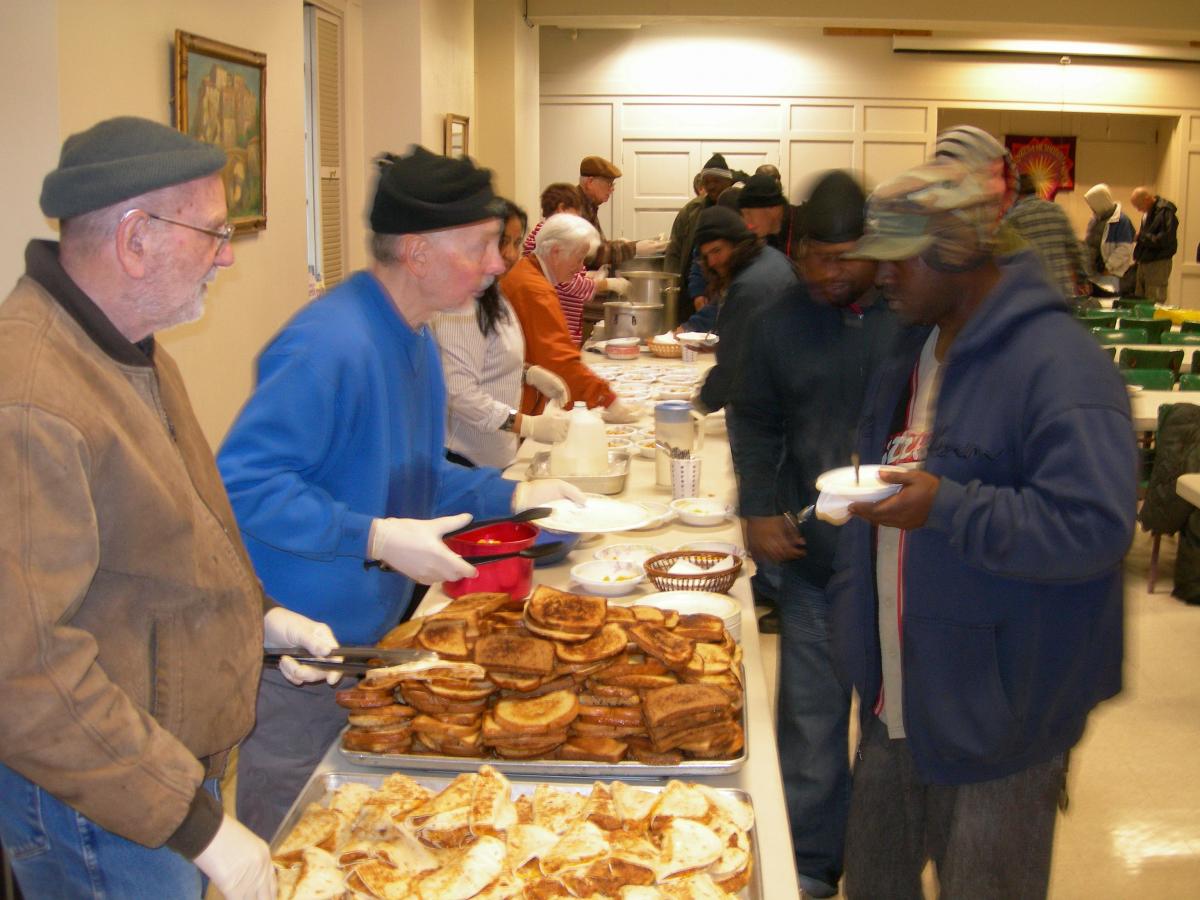 Congratulations to University United Methodist Church (UUMC) in Austin, winner of the Grounds and Water Conservation category in the 2012 Cool Congregations Challenge. The competition, sponsored by Interfaith Power & Light, offers religious congregations an opportunity to show leadership in responding to climate change--and UUMC stood out for a creative program that incorporates environmental stewardship into a ministry for the homeless.
By adding a composting service to their Open Door Ministry, which provides breakfast and lunch once a week to people experiencing homelessness, UUMC has composted more than 27,000 gallons of waste. Read on for UUMC's Cool Congregations Success Story, in the church's own words:
UUMC's Open Door Ministry began in 1991 as Saturday Outreach, a six-week Lenten service project undertaken by a UUMC Sunday School class, in which sandwiches were served to homeless people in the church's immediate urban community. In response to the need in the community - as well as the transformation occurred in the hearts of those serving - the program was continued beyond Lent, and a ministry was born. A few years later the Fig Leaf Store was added to provide free clothing.

What started as a simple lunch offering on the street, moved to an in-house space of respite, fellowship, and a full-fledged brunch. Today, Open Doors is a partnership between UUMC, a number of community and church organizations, and more than a dozen homeless participant volunteers. A typical Sunday morning requires about 40 volunteers - one third are church members, one third are from outside groups, and one third are homeless participant volunteers who have claimed this ministry as their own. The Open Door mission has become their mission.

One of the remarkable aspects of UUMC's composting and recycling program is the way it empowers the homeless community in making positive environmental choices. The homeless community near the University of Texas has little control over their environment. However, when they participate in Open Door and are given an opportunity to make choices that help the environment, they overwhelmingly choose to participate in the composting and recycling aspects of our program and support environmental stewardship. They enthusiastically encourage onsite composting and recycling; in addition, they bring recycling from the neighborhood to the UUMC collection site.

Open Door produces more recycled and composted materials than any other UUMC activity or ministry. Involvement in this ministry has raised the awareness of the entire congregation about opportunities to conserve resources. Since Open Door implemented its environmentally sustainable waste management practices, congregation members have introduced composting at a number of church events, including church luncheons, evening workshops, and holiday family events. Notable efforts include a zero-waste church picnic, composting containers installed in church classrooms, and the addition of City of Austin battery recycling containers in spring 2011. Other recycling opportunities at UUMC include the collection of prescription eyeglasses for repurposing, recycling of books at used book sales, an athletic shoe drive through Nike Reuse-a-Shoe, and the upcycling of church signs and banners into re-usable shopping bags.

UUMC's environmental mission statement acknowledges the sanctity of creation and pledges to faithfully care for God's world through stewardship, worship, teaching, and mission. The mission statement cites the Bible verse Numbers 35:34, which cautions: "Don't desecrate the land in which you live. I live here, too. I, God, live in the same neighborhood with the People of Israel."  The congregation's composting and recycling program is one way in which UUMC can practice stewardship and be good neighbors to the larger Austin community.
For the press release announcing UUMC's 2012 Cool Congregations Challenge award, go here.
For more information about the Open Door Ministry at UUMC, go here.
For more information about the benefits of composting, and using compost, go here.