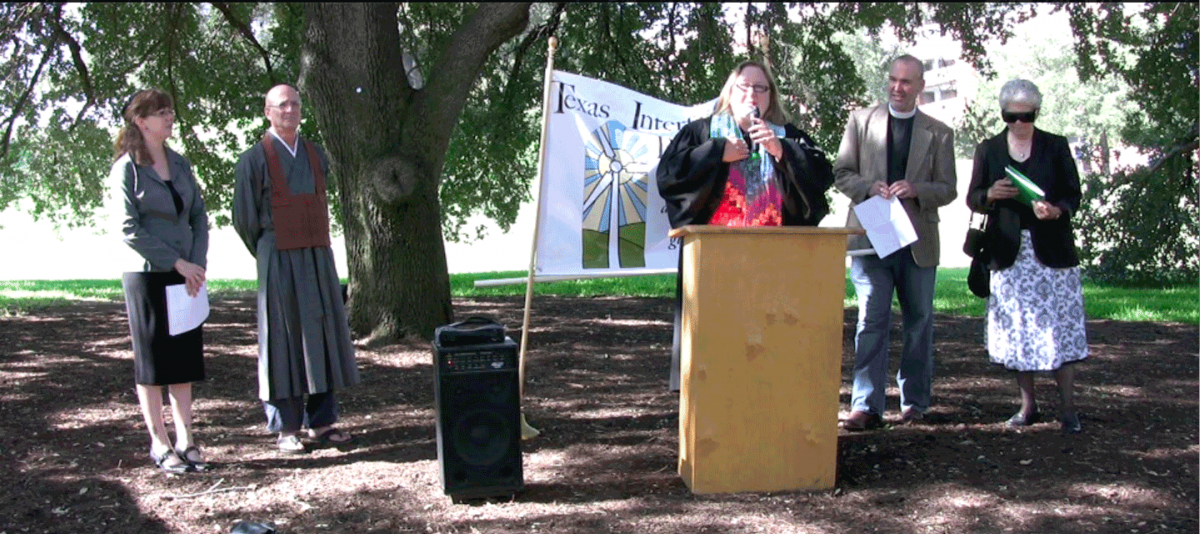 September 28, 2011
AUSTIN—Texas religious leaders led an interfaith prayer service at the LBJ Fountain on the UT Campus this morning immediately before the start of US State Department hearings on a controversial international oil pipeline. Worship leaders representing Catholic, Protestant, Buddhist, Unitarian Universalist and Jewish traditions offered prayers, readings and meditations that highlighted the interconnected nature of life on earth and called for renewed stewardship of our shared resources.
Faith communities across the nation are coming out in strong opposition to the proposed Keystone XL pipeline, which would transport oil from the tar sands in Alberta, Canada, to refineries on the Texas gulf coast. Faith opposition includes concern for Canadian indigenous peoples, concern for the climate, and increasing alarm at potential risks to Texas' water supply.
Texas Interfaith Power & Light (TXIPL), a statewide religious environmental network, sponsored the service. TXIPL is one of 38 state Interfaith Power & Light affiliates. The national movement includes more than 14,000 religious congregations and supports sustainable clean energy solutions.
Amanda Yaira Robinson, Coordinator of Texas Interfaith Power and Light, said the Jewish theme of teshuvah, or "turning," offers wisdom for consideration of the controversial pipeline. "We are told that this pipeline will create new jobs, but it will also create new problems. My hope and prayer as Rosh Hashanah begins this evening," she said, "is that we as a nation will do some teshuvah, some turning, and choose a path of life and health for all people and the planet that we share." Robinson said that teshuvah is central to the Jewish High Holy Days. She noted that no Texas rabbis could participate in the service or the State Department hearing because of the conflict with the major religious holiday, but said that several rabbis have authored a joint statement to be presented at the hearing.
Rev. Meg Barnhouse of First Unitarian Universalist Church of Austin said, "One of the core principles of our faith is an understanding that we are part of an interconnected web of life. So when we cut down boreal forests in Canada for tar sands mining, we are contributing to global warming, which affects the entire planet."
Sister Elizabeth Riebschlaeger, of the Sisters of Charity of the Incarnate Word, San Antonio, called attention to the risk the pipeline presents to water resources. "The path of this pipeline would cut through the Carrizo Aquifer in east Texas. A spill there would be devastating for the communities who depend on its water."
Kosho McCall, Teacher and Head Priest at the Austin Zen Center, highlighted the Buddhist principle of ahimsa, or "no-harm," saying, "When we consider what action to take, we must include in our deliberations the effects our actions will have on others."
Rev. Tim Tutt, pastor of United Christian Church of Austin, voiced concern about increased air pollution that would be created in the Houston area as a result of refining tar sands oil there. "The refining of this heavy tar sands oil emits more dangerous toxins in the air than conventional oil does. That spells trouble for our neighbors in Houston, especially children and the elderly, who suffer from asthma and other respiratory problems."
###
For more information contact yaira@texasinterfaith.org