Submitted by
Yaira
on Mon, 2011-10-03 14:12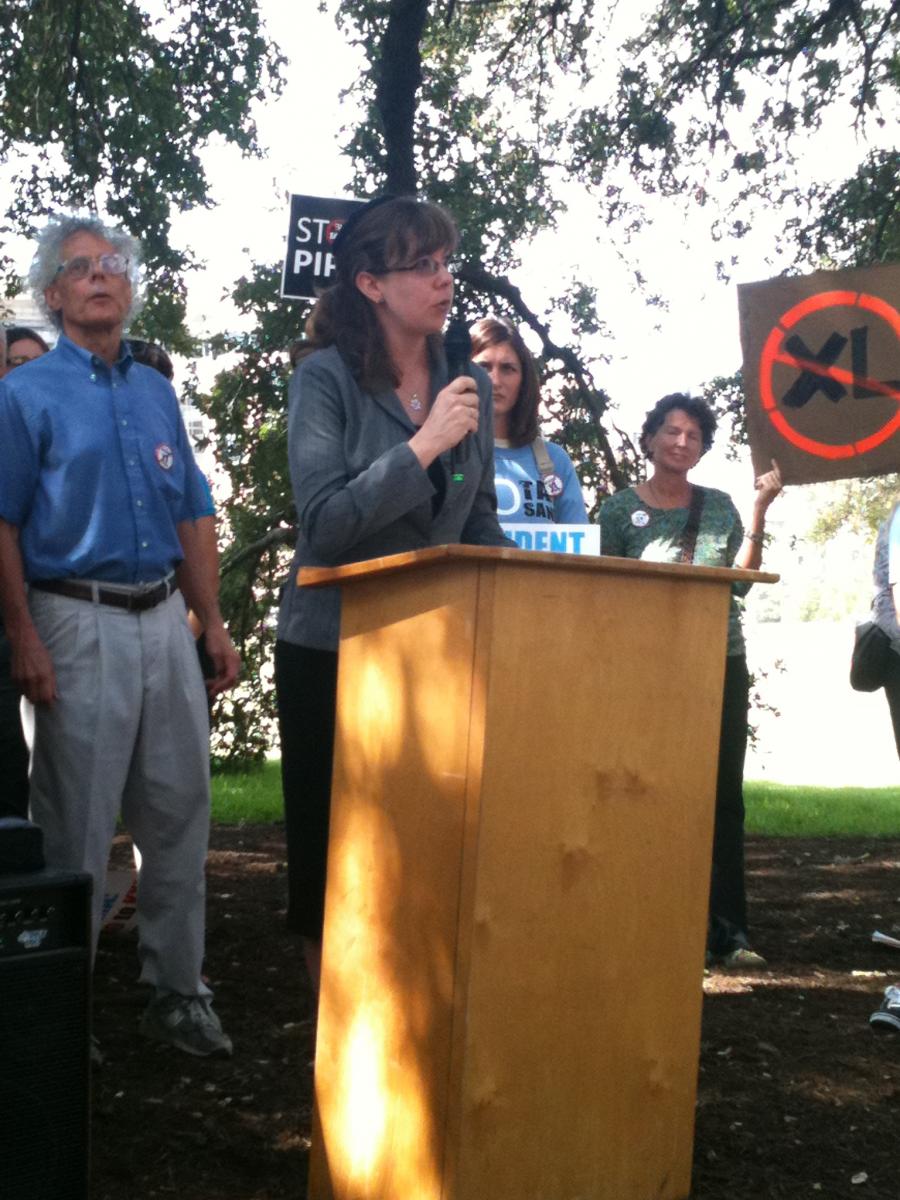 On Wednesday, September 28, 2011, I offered testimony at the U.S. State Department hearing in Austin in opposition to the proposed Keystone XL pipeline. Although I had prepared my testimony in advance, I revised it during the hearing to address the very real concerns being expressed by our union brothers and sisters about their need for jobs. I'd love to hear your thoughts--about this testimony, about this issue, about your experience of the hearing... feel free to send me an e-mail.
********
My name is Amanda Yaira Robinson. I am the Coordinator of Texas Interfaith Power & Light, the environmental program of Texas Impact, Texas' oldest interfaith public policy advocacy organization.
I am a native Texan; I'm Jewish; I'm a student at Austin Presbyterian Theological Seminary; and I'm mom to two boys who make me laugh every day. Thank you for the opportunity to be here today.
First, I want to say that I can hear the cry for more jobs—I do. And I hear the anxiety, the worry, the suffering from folks that need jobs. I want more jobs for more Americans, too.
We are told that building this pipeline will create new jobs. But it will also create new problems—harming Native peoples in Canada, increasing air pollution in Houston and Corpus Christi, creating the risk of oil spills in fragile aquifers, and making global warming—which is already happening—even more severe.
Creating new jobs on the backs of other people who are suffering—creating new jobs that create new suffering—is not OK.
Deuteronomy 22:8 reads, "When you build a new house, you shall make a parapet for your roof, so that you do not bring bloodguilt on your house if anyone should fall from it."
Now, we are not talking here today about building a house. We are talking about building a very long pipeline to carry bitumen from Canada all the way down here to Texas. We are also talking about continuing the U.S.'s role in being the primary driver of this destructive method of mining in Canada—of increasing our share, for years to come, of responsibility for the clear-cutting of the boreal forests, of creating toxic pools and runoff that kill wildlife and make people sick, and of causing the destruction of North America's most important natural carbon sequestration system.
If we build this pipeline, we will be committing ourselves—and the rest of the world—to a much warmer climate and a planet that is far less hospitable to human and all other life.
If we build this pipeline, there is no parapet we can make to keep people safe from the effects of more severe global warming.
We should not build this pipeline.
Let us not bring the bloodguilt of tar sands mining and global warming on our house. Let us find other ways, together, to create new jobs. I have faith that our great country can rise to this challenge. The Keystone XL is just not in our national interest. Thank you.